Samsung's next Android tablet could have a giant 18.4-inch screen
Published on August 26 2015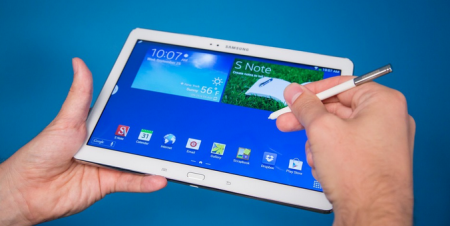 Apple is apparently not be the only one working on a reallt big tablet.
Samsung is reportedly working on an Android 5.1 Lollipop tablet (codenamed "Tahoe") with a giant 18.4-inch display, according to a new report from SamMobile, a Samsung-focused blog with a reliable track record on leaking the company's upcoming products.
The tablet, which is said to have dimensions of 17.7 x 10.85 x 0.46-inches, may come with a somewhat "low-res" screen. The report says the screen resolution will be 1,920 x 1,080(full HD), which isn't anywhere nearly as sharp as the 2,560 x 1,600 resolution on the company's 12.2-inch Galaxy Tab Pro.
Other specs include a 64-bit 1.6GHz Exynos 7580 processor, 2GB of RAM, 32GB of internal storage (expandable via microSD card up to 128GB) and a 5,700 milliamp-hour (mAh) battery.
It will also have an 8-megapixel camera on the back and a 2.1-megapixel camera on the front.
No mention of a stylus, but given Samsung's love for its S Pen, we wouldn't rule it out entirely.
What would a person do with such a huge tablet? Drawing, design work and being used as a secondary screen are a few uses that come to mind.
We've seen tablets evolve from 10 inches to 7 inches to 8 inches to 9 inches to 12 inches over the years. Will 18-inch tablets be the next big (excuse the pun) thing?
Reference: Mashable
Recommended:
You are sure to notice that your Android device is slower and slower than the time when it was new, right? How about the Mac and iOS devices? Course it is! Why? There are much cache files created by iTunes and others on your Mac, which take much spaces and weaken your Mac performance. And various of apps installed on your iPhone as well as the gigabytes of cache files fill up limited hard drive quickly. Uninstalling some outdated or useless applications directly is not enough to fix it. Try MacCare freely to scan, select and clear junk files in on click! Completely, and securely! Plus, MacCare is able to free up your iPhone/iPad space to improve its performance perfectly.
You can follow MacCare Studio on Facebook, Twitter and Google+ for more tips and tricks.