Twitter will remove 140-character limit on direct messages
Published on June 12 2015
It will be available soon to sending much longer direct messages on Twitter.
The site plans to remove the 140-character limit on its direct messaging feature in July, the company revealed in a post on its developer forum on Thursday.
A Twitter spokesperson confirmed to Mashable the character limit would be changing sometime in July but declined to provide more specific timing. The character limit for regular tweets, which is also 140, will remain in place.
"You may be wondering what this means for the public side of Twitter," Sachin Agarwal, Twitter's product manager for direct messages, wrote in the post on Thursday. "Nothing! Tweets will continue to be the 140 characters they are today."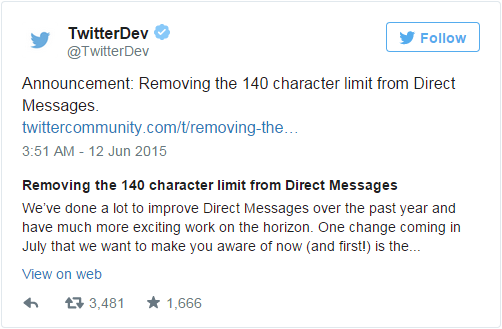 The move is the latest in a series of major changes the company has made to direct messages over the past year. Twitter introduced group messaging features into the service in January. The network also added an option that allows users to opt-in to receive private messages from anyone else on the service.
Previously, only users who followed one another could exchange direct messages. People can opt-in to receiving direct messages from anyone through "security and privacy" menu in the app's main settings.
Reference: Mashable
You might be also interested in:
All the news from Apple's WWDC 2015 Keynote
Recommended:
Generally, it is unnecessary to do a lot of maintenance for iOS devices. But various of apps as well as the gigabytes of cache files fill up limited hard drive quickly. Uninstalling some outdated or useless applications directly is enough to fix? NO! There are tons of caches that are much tightly packed away. MacCare will give you a best solution of improving iOS device performace, scanning every file, detecting all junks and freeing up space completely and securely!
You can follow MacCare Studio on Facebook, Twitter and Google+ for more tips and tricks.