iOS 9 feature will help you download updates even if you don't have enough storage
Published on June 24 2015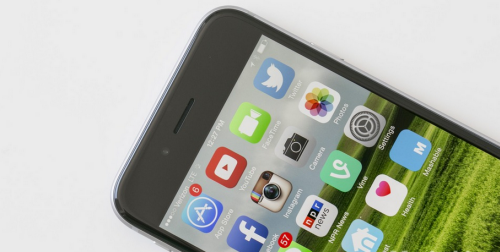 iOS users: You will never again have to worry about what apps and photos to delete before installing an iOS update.
In addition to limiting the size of the iOS 9 download itself, Apple has added a feature that will help ensure users with lower capacity or overstuffed devices are able to get the latest update even if they don't have enough free space on their device.
Those who don't have enough space on their iPhone or iPad will see an option to "allow app deletion" within the "insufficient space" notification that appears during the download process. First spotted by MacRumors, it appears the feature will temporarily delete certain apps in order to make room for the update. Once the update is installed, iOS will automatically restore the downloads.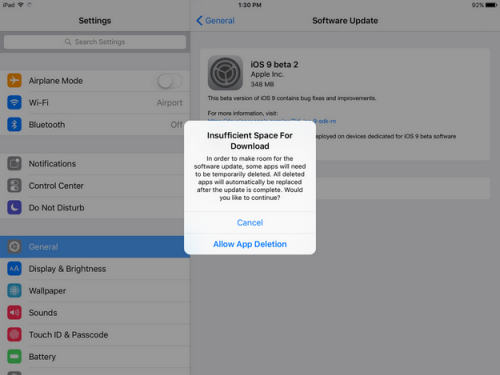 The new app deletion feature and smaller overall size of the iOS 9 download, which will be just 1.3 GB, according to MacRumors' screenshots, will go a long way toward making it easier for users with smaller capacity devices to get updates without agonizing over which apps and photos to delete. The iOS 8 update came under fire from many users, particularly those with 16 GB devices, for requiring as much as 5.75GB of free space.
Of course, the easiest way to avoid size limitations is to invest in a larger capacity device in the first place. Apple recently doubled the size limit for iOS apps, from 2GB to 4GB, so app sizes in general are likely to keep going up.
Reference: Mashable
Recommended:
Generally, it is unnecessary to do a lot of maintenance for iOS devices. But various of apps as well as the gigabytes of cache files fill up limited hard drive quickly. Uninstalling some outdated or useless applications directly is enough to fix? NO! There are tons of caches that are much tightly packed away. MacCare will give you a best solution of improving iOS device performace, scanning every file, detecting all junks and freeing up space completely and securely!
You can follow MacCare Studio on Facebook, Twitter and Google+ for more tips and tricks.