Frustrated drivers: There's an app that helps you find street parking
There are very few things in this world more frustrating than trying to find street parking in a busy city. For anyone who has to deal with this on a regular basis, INRIX On-Street Parking might be your savior.
INRIX, a Washington-based company that specializes in traffic data and connected car systems, announced a new service on Wednesday that can help drivers find parking, and provide cities with valuable information on parking. BMW will be the first automaker to offer On-Street Parking in its vehicles as part of its Connected Drive services and apps.
The service uses real-time data, such as location, traffic information and parking meter transactions, to predict which streets are more likely than others to have free parking spaces. The best streets for parking are highlighted in green on the car's navigation map, while those that are less promising show up in yellow, and streets that likely have no parking are highlighted in red. In INRIX's mockup, the service looks exactly like the traffic data overlays you see on Google Maps.
On-Street Parking can also tell drivers about the cost of parking, and give information about local restrictions in their particular area. It can even direct you to a parking garage if there's no space available on the street.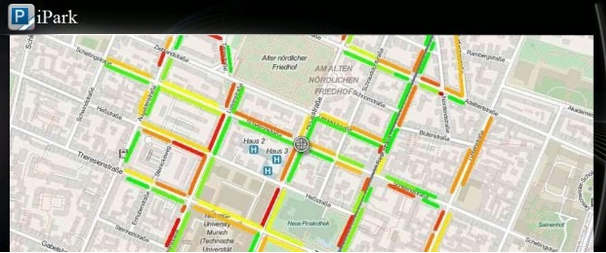 BMW is INRIX's only launch partner, but the company lists Ford, Nissan, Porsche, Toyota, Volkswagen, Volvo, Audi and Daimler AG (Mercedes-Benz) as customers, so there's a very good chance that On-Street Parking could find its way into a variety of new cars.
There's no firm launch date, but when it arrives "by the end of the year," On-Street Parking will be in Seattle, Vancouver, San Francisco, Cologne, Amsterdam and Copenhagen with additional cities, coming later. INRIX showed off the tech at the Telematics Automotive 2015 conference in Novi, Michigan, on Wednesday.
Connected car apps are very hit or miss, but On-Street Parking looks promising. It could help drivers save time and money, while reducing pollution and congestion.
INRIX is also marketing the service to cities that want to have better data on parking patterns. On-Street Parking will provide them with real-time data, which can be used to improve the quality of parking, and potentially increase parking revenue.
Reference: mashable
Recommended:
Generally, it is unnecessary to do a lot of maintenance for iOS devices. But various of apps as well as the gigabytes of cache files fill up limited hard drive quickly. Uninstalling some outdated or useless applications directly is enough to fix? NO! There are tons of caches that are much tightly packed away. MacCare will give you a best solution of improving iOS device performace, scanning every file, detecting all junks and freeing up space completely and securely!
You can follow MacCare Studio on Facebook, Twitter and Google+ for more tips and tricks.