3 Best Ways to Clean Caches on Mac Yosemite
Safari is running slower than the time it was new? If so, you need to clean cache files on your Mac, right now! What is cache? It stores information of your browsing history to help you to reload a site more smoothly. But these files will go out and become useless, and then the increasing caches will pile up and take up much space eventually! There are 3 ways to get rid of cache files on Mac OS X Yosemite completely.
Method 1: "Safari" - "Develop" - "Empty Caches"
Step 1: Launch Safari
Double-click Safari icon on your desk or come to "Applications" to open it.
Step 2: Go to "Develop"
After launched Safari, you can access to "Develop" in menu bar.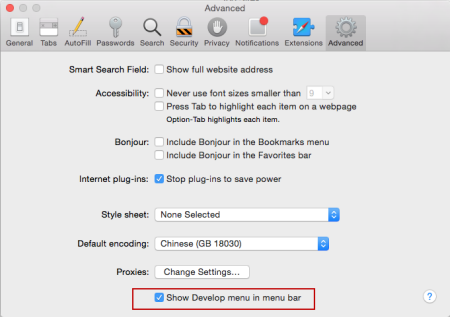 Tips: If there is no "Develop" option with Safari opened, just click "Safari" in menu bar and choose "Preferences" in drop-down list, check "Show Develop menu in menu bar" below "Advanced".
Step 3: Clean Caches
Choose "Empty Caches" under "Develop" to clean cache files. And one more thing you need to do is move to Safari menu > "Clear History and Website Data..." for completely cleaning.
Method 2: Remove Caches Manually
Step 1: "Go to Folder"
Click "Go to Folder" in the pull-down list of "Go".
Step 2: "~/Library/Caches"

Key in "~/Library/Caches" in the blank bar and click "Go";
Step 3: Clean Caches
After the Caches folder opened, pitch on every file and move to trash directly. When you restart Mac, fresh caches will be created.
Tips: It is recommended to backup these caches in advance if you worry that something might be mistakenly deleted.
Method 3: MacCare Cleans Caches
Any easier way to clean caches instead of rummaging about on Mac? What' more, it is possible to mistake one among the chunky files. You can figure all caches out with MacCare more quickly, and safely!
Step 1: Download MacCare
>>>Download MacCare<<<
Compatible OS: Mac OS X 10.7-10.10
Step 2: Launch MacCare and Scan Mac
Open MacCare and choose "Mac Clean" in the left channel, and then click "Scan" button.
Step 3: Clean Caches with MacCare