How to Check Your MacBook Battery's Condition and Cycle Count?
Most of you would probably see a problem that the battery of your MacBook is becoming weaker than the time when it was new. And it would be hard to hold a charge eventually after extended use.
Apple Inc. claimed that the maximum cycle count of it's MacBook line battery is up to 1000, which means the battery would be considered consumed once it reaches the limit. How to define one charge cycle exactly?
"A charge cycle means using all of the battery's power, but that doesn't necessarily mean a single charge. For instance, you could use your notebook for an hour or more one day, using half its charge, and then recharge it fully. If you did the same thing the next day, it would count as one charge cycle, not two, so it may take several days to complete a cycle." Apple support says. Today, MacCare Studio will teach you how to access information about your MacBook battery.
Step 1: Click "Apple Menu" in the top left of your screen and choose "About this Mac" to open "System Information". And then click "System Report";
Tip: For Mac OS X Snow Leopard v10.6.8 or earlier, you can choose "More Info" after clicking "About this Mac".
Step 3: View the battery information for your Mac laptop as following: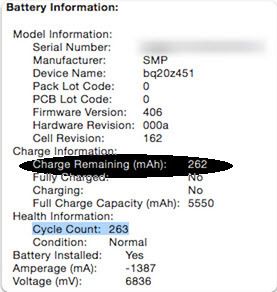 With the several clicks, you can get a general information of your Mac battery timely. And, if you want to get such information more conveniently and comprehensively, you could install a Mac battery monitor application like MacCare.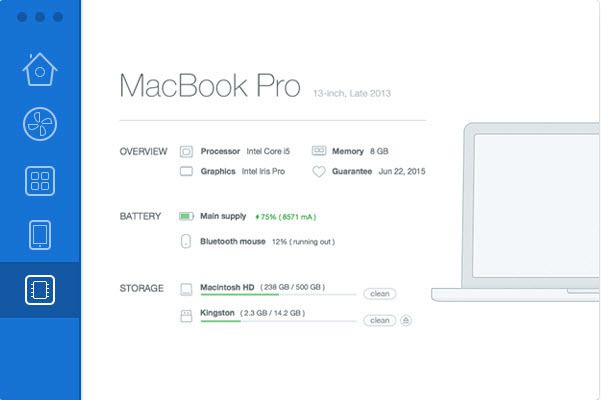 MacCare is able to transfer the battery usage information to you, both Mac battery usage and bluetooth-connected devices. And it also lets you insight everything of your Mac including CPU, RAM and Guarantee at one sight. What's more, the third-party tool is a splendid cleaner and protector for Mac OS X.
You can follow MacCare on Facebook, Twitter and Google+ for more tips and tricks.